New Metro City Gujar Khan
After the immense success of New Metro City Kharian, BSM developers have come up with a new project called Metro City Gujar Khan. It is an emerging housing scheme in Gujar Khan Rawalpindi. The society offers state-of-the-art residential amenities at affordable prices.
New Metro City Gujar Khan is a massive development that aims to provide luxurious living at an affordable price. Additionally, the society is located at a prime location adjacent to GT Road. It is also close to Islamabad just a few minutes' drive away. The property provides all of the latest amenities and services at reasonable costs. Moreover, the developers have left aside substantial space for the creation of amenities such as parks. The society will be surrounded by a boundary wall with a flawless mechanism to ensure a high level of protection.
New Metro City Gujar Khan Developers
The owner and CEO of New Metro City Gujar Khan is Bilal Bashir Malik. The project is being built by BSM Developers, a company with many years of experience in the real estate industry. By hiring a group of knowledgeable professionals, the developer aims to create an infrastructure of outstanding quality. Moreover, the company is renowned for creating top-notch real estate developments that provide unique amenities in numerous Pakistani cities. Some of the successful projects of these developers are:
New Metro City Kharian
Gawadar Golf City
In addition, BSM Developers has a team of in-house highly skilled experts who combine their abilities to make its projects successful. They diligently follow all the procedures, from planning to designing to implementing, to give exactly what they say.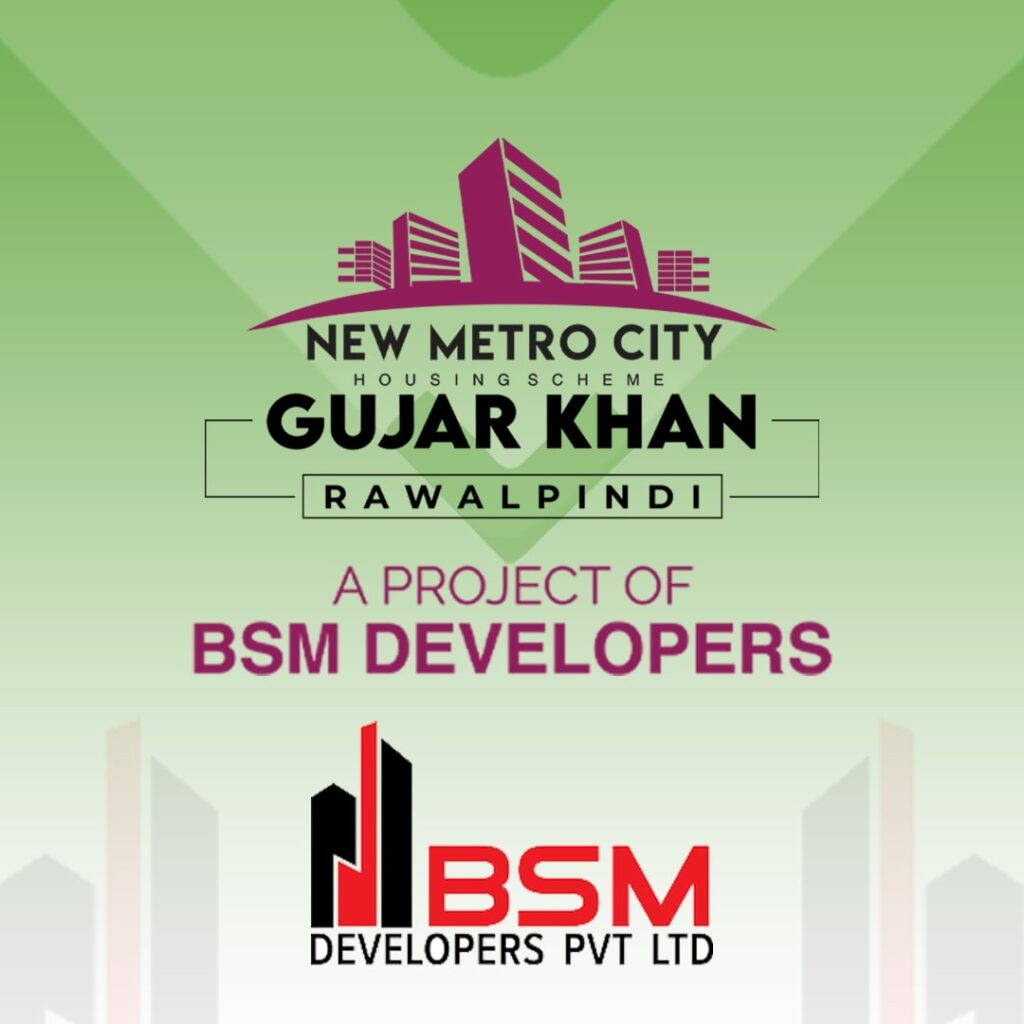 New Metro City Gujar Khan NOC
The No Objection Certificate (NOC) of New Metro City Gujar Khan is approved by Rawalpindi Development Authority (RDA). Despite being located in the Gujar Khan Tehsil, New Metro City is governed by the Rawalpindi District. Moreover, the RDA approved the society's layout plan (LOP), with approval number RDA|F-PHS-GRK-06/738.
BSM Developers had already submitted the NOC application in June 2022 along with the necessary documents and payment. On August 18, 2022, RDA formally authorized New Metro City's NOC, making it entirely legal and secure for investments. Moreover, BSM Developers have begun the development work in Sector-1 with the approval of the LOP and NOC.
Location of Metro City Gujar Khan
New Metro City Gujar Khan is ideally situated on the Grand Trunk G.T road in Tehsil Gujar Khan, district Rawalpindi. Moreover, investors are attracted to this project due to its prominent location. It is also an easily accessible project. You can see Metro City Gujar Khan map below:
It lies at main GT Road in Gujar Khan
Almost 7 min drive from Sukho Road
Almost 5 min drive from Gulyana Road
Moreover, almost 9 min drive from Gujar Khan-Bewal Road
Almost 15 min drive from Mandra-Chakwal Road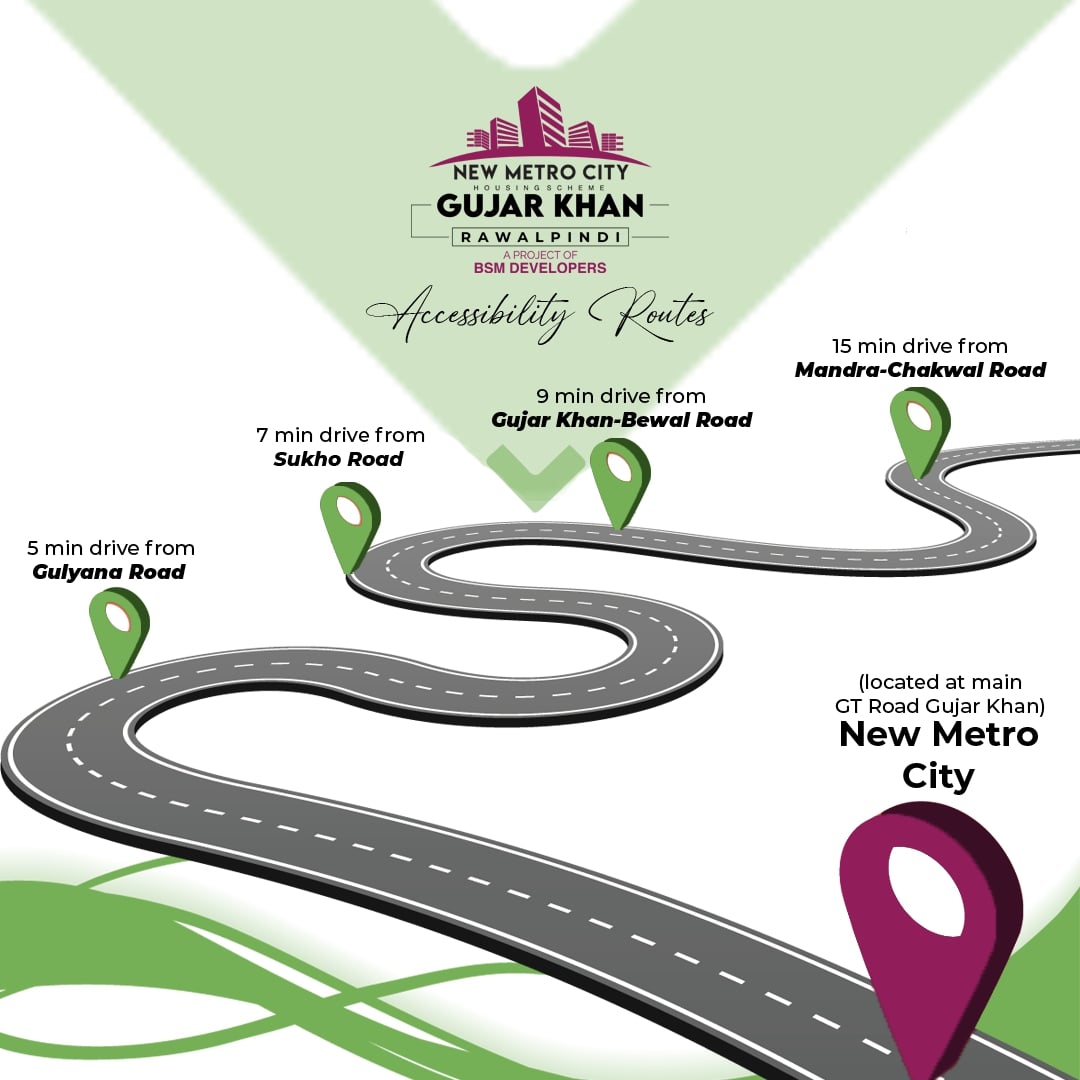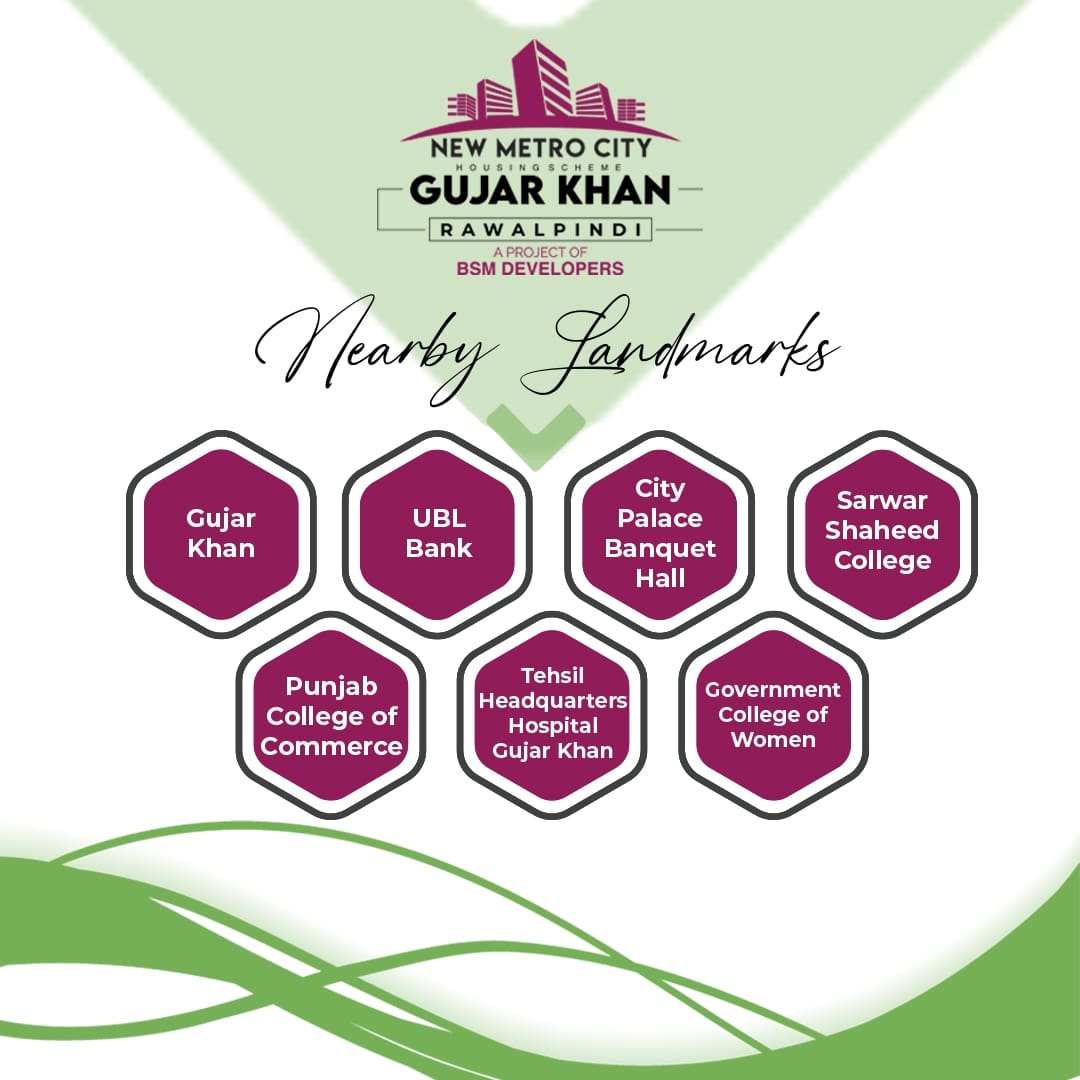 Landmarks nearby Metro City
The following are the landmarks nearby Metro City Gujar Khan
Gujar Khan
UBL Bank
City Palace Banquet Hall
Sarwar Shaheed College
Punjab College of Commerce
Tehsil Headquarters Hospital Gujar Khan
Government College of Women
Salient Features of New Metro City Gujar Khan
Following is a list of features available in the society:
Secure Gated Community
24/7 security system
Beautiful Entrance Gate
Business as well as Commercial Hub
Community Center
Eco-Friendly Environment
Education Complex
Grand Mosque
Graveyard
Health Facilities
Sewerage as well as a waste disposal system
Sports Complex
Underground electrification
Water, Gas, Electricity
New Metro City Master Plan
The master plan of Metro City Gujar Khan is planned by a team of experts. The society spans over 16,000 Kanal of land. Infrastructure development is receiving a lot of focus in order to make it shine in other Gujar Khan housing societies.
The following size of residential plots is available:
3 Marla
5 Marla
7 Marla
10 Marla
1 Kanal
A housing project is incomplete unless it includes a commercial sector within the society's boundaries. It enables the residents to take care of their needs without frequently leaving society. Moreover, to support the seamless functioning of various retail shops and businesses, commercial plots of various sizes are available with excellent facilities.
The plot sizes offered in the commercial sector are:
5 Marla
4 Marla
5 Marla
6 Marla
8 Marla
Overseas Premium Category Plots (Sector-1)
Sector 1 of NMCGK now offers residential plots of the highest level. Although these plots launch specifically for the global community, locals can buy them. Moreover, overseas Pakistanis are eligible for a special discount on these top category 8 Marla and 14 Marla residential plots. Now, overseas Pakistanis can buy any of these plots for 5% less. Remember that this discount is only available to Pakistanis living abroad.
The following plot sizes are available in the premium sector 1 category:
New Metro City Gujar Khan Villas
Villas are now available as part of the housing project. The following sizes are available:
New Metro City Gujar Khan Payment Plan
The pre-launch rates and payment plans for residential plots in New Metro City Gujar Khan have been officially announced. Bookings have officially started since forms have been issued by the company.
Residential plot sizes of 5 Marla, 7 Marla, 8 Marla, 10 Marla, 14 Marla, and 1 kanal are available in New Metro City Gujar Khan at introductory prices with a 2-year installment plan. Bookings begin with approximately a 20% down payment, with the remaining sum due in 2 years in equal monthly installments. Additionally, two balloon payments are due after four and twelve months, and the ballot amount is due before voting.
Payment Plan of Residential Plots
Residential Payment Plans (Low Cost Block)
Early Bird Villas Payment Plans (5, 7 Marla)
Early Bird Villas Payment Plans (8 Marla)
To buy the property in New Metro City Gujar Khan you'll need the following documents:
Two passport-size photographs
2 copies of your CNIC
Two copies of your next kin's I.D. card
It is easy to book a plot in Metro City Gujar Khan. Simply follow the instructions given below:
Complete the booking application form
Attach a copy of the applicant's CNIC
Pay the down payment by cheque or by order
Cash payments will accept after management approval
Submit the necessary documents, pay, and then acquire a receipt
The upcoming society will be an all-inclusive combination of luxurious amenities and accessibility. Residents of New Metro City will have access to the finest world-class amenities and pleasures, allowing them to enjoy and live as never before. Moreover, New Metro City offers good residential choices, maintenance, and cleanliness. The society will offer the following amenities and facilities:
Eco-friendly Environment
These days, everyone wants their children and families to live in an atmosphere that is healthy and green since it will improve their lives and health. Therefore, BSM's designers built the community in accordance with global environmental standards so that its residents could live in a pollution-free environment. Moreover, the presence of beautiful gardens, parks, and green spaces will provide locals with a peaceful environment.
Medical Facilities
A modern medical facility has been incorporated into the master plan for those who are prepared to invest in the community because good health is an essential component of any society. Moreover, to better serve the patients, the medical center will be open 24/7.
Commercial Areas
Due to GT Road's close proximity, the society's goal is to offer the largest business center for its residents and Gujar Khan. Additionally, this project's commercial sector will have gyms, fast food restaurants, swimming pools, sports fields, and shopping centers so that people can spend time with their friends and loved ones.
Secure Community
Residents' safety is a top priority for BSM developers. To accomplish this, a gated community is being constructed for all investors. In addition, CCTV cameras will be set up throughout society to record all activity and events in the community.
Reasons to Invest in New Metro City Gujar Khan
There are countless reasons to invest in this project. The ultimate goal of this housing scheme is to achieve the highest level of luxury and modern elegance. Moreover, it is a classic and unique project. The link between conventional real estate and a world beyond your wildest fantasies will build. Before making an investment in this new project, think about the following reasons before investing:
Highly Trusted Developers
BSM Developers is known as one of the top designers and developers of opulent residential and commercial projects with exquisite design and sustainability. They are known for achieving the greatest possible quality in the real estate industry. Additionally, they want to use their years of extensive knowledge and advice to assist buyers and investors in making the best real estate decisions. Moreover, they provide the best source of expertise, facts, and resources for their initiatives by approaching every opportunity enthusiastically. This is one of the benefits of investing in this society.

Affordable Housing Scheme
The main and most important reason to consider investing in a low-income housing society is its affordability. While keeping costs lower, this housing program offers possessions. When these economies grow up, there is a good chance that the full return on investment will realize.
Modern Features
It's one of the gated communities that provide you with all the necessary modern conveniences and services in addition to the safety of a gated community. Moreover, this society is a great choice for people looking to live in a modern residential community in Gujar Khan City.
Financial gain
Investors can invest in both commercial and residential sectors, which can benefit you in the long run. Investors have two options for generating income: either renting out the property or selling it for a profit. So, investments in agreements of this sort will be very profitable.
Frequently Asked Questions (FAQs)
Ans. Yes, it is a legal society approved by RDA.
Ans. Yes, without a doubt, because of the simple New Metro City Gujar Khan installment plans. Moreover, the management has played a critical role in blending luxury and affordability.
Ans. It lies at main G.T Road.
Ans. Bilal Bashir Malik is the owner of the society.
Ans. Yes, it is the best investment opportunity in Gujar Khan.
Ans. The project was officially launched in 2022.
New Metro City Gujar Khan is a promising housing project by BSM Developers that draws both prospective residents and investors from twin cities. We may safely invest in this housing project because of the high quality of development and prompt delivery of previous projects, which represent their professionalism and commitment.
The pre-launch rates are quite reasonable but will probably be changed very soon. Therefore, those who make investments at this time are certain to get an instant return on their money.
To know more about these profitable projects you may read about Capital Smart City and Faisal Hills.